A slight overlap this time, as we are already a few days into the news for this month.
Looking forward… February
PGETC
Ireland's 4th round (vs Cyprus) is undecided, with the remaining board to be played this tuesday, the 7th, as 20:00 CET – http://pandanet-igs.com/communities/euroteamchamps/rounds/363#2
Cork City
Go restarts in Bradley's Pub, Barrack St at 20:00 this Sunday (the 5th) – https://www.facebook.com/groups/191875150950
Weekly Meetings
Dublin – Wednesdays 20:30 in Toners – http://www.irish-go.org/clubs-tournaments/dublin/
Online – Thursdays 20:00-22:00 on OGS – http://www.irish-go.org/clubs-tournaments/online/
Cork – Sunday nights 20:00(-ish) in various venues around the city – https://www.facebook.com/groups/191875150950
Belfast – Monday nights at the Brewbot Pub on Ormeau Road – https://www.facebook.com/BelfastGoClub/?fref=ts
Galway – Tuesday at 20:00, usually at Westwood House Hotel. Anyone interested should email info [at] alexander [dot] ie or call Richard on 091 555800 to confirm
Cobh – Meetings 20:00 most Thursdays in Whitepoint – http://www.corkgo.org/?page_id=9
*The Cork group will be making use of Discord on a trial basis. To get an invite, contact Padraig or myself.
Looking further ahead…
March
Registration is now open for the 2017 Irish Confucius Cup – http://www.irish-go.org/2017-irish-confucius-cup/
May
The Galway Tournament will take place on May 6th-7th at the Galway Bridge Club, St Mary's Road – http://www.irish-go.org/galway-main-tournament-2017/
May
A one-day Pair Go event is being organised on Sunday May 14th in the Japanese Embassy in Nutley Centre. Interested pairs should contact the IGA committee.
Looking back… January (and a bit of February)
Top 8 (2016)
James won the first two games (of three) in the final against Noel, claiming the 2016 Irish Champion title – http://www.irish-go.org/2016-irish-championship-table
Top 8 (2017)
The first four(-ish) rounds took place in Ballsbridge Hotel last weekend – http://www.irish-go.org/2017/01/29/top-8-week-end-results/
AGM
The 2017 IGA AGM took place on the first day of the Top 8 weekend. Minutes: http://www.corkgo.org/?p=884
Tony Goddard (1947-2017)
For those who remember Tony Goddard, it seems that he passed away last weekend. For a few years he was living in Belfast, working at QUB. He started a Go club there during his stay, as well as taking part in the Chess scene. During that time he played in the Irish Open, winning it in 1994 – http://www.britgo.org/node/5745
Irish Correspondence Tournament 2017
Progress can be tracked at http://senseis.xmp.net/?IrishCorrespondence
Dutch Female Champ 2017
Justyna tied for 1st. There will be a best-of-three playoff later this year – http://www.eurogofed.org/index.html?id=101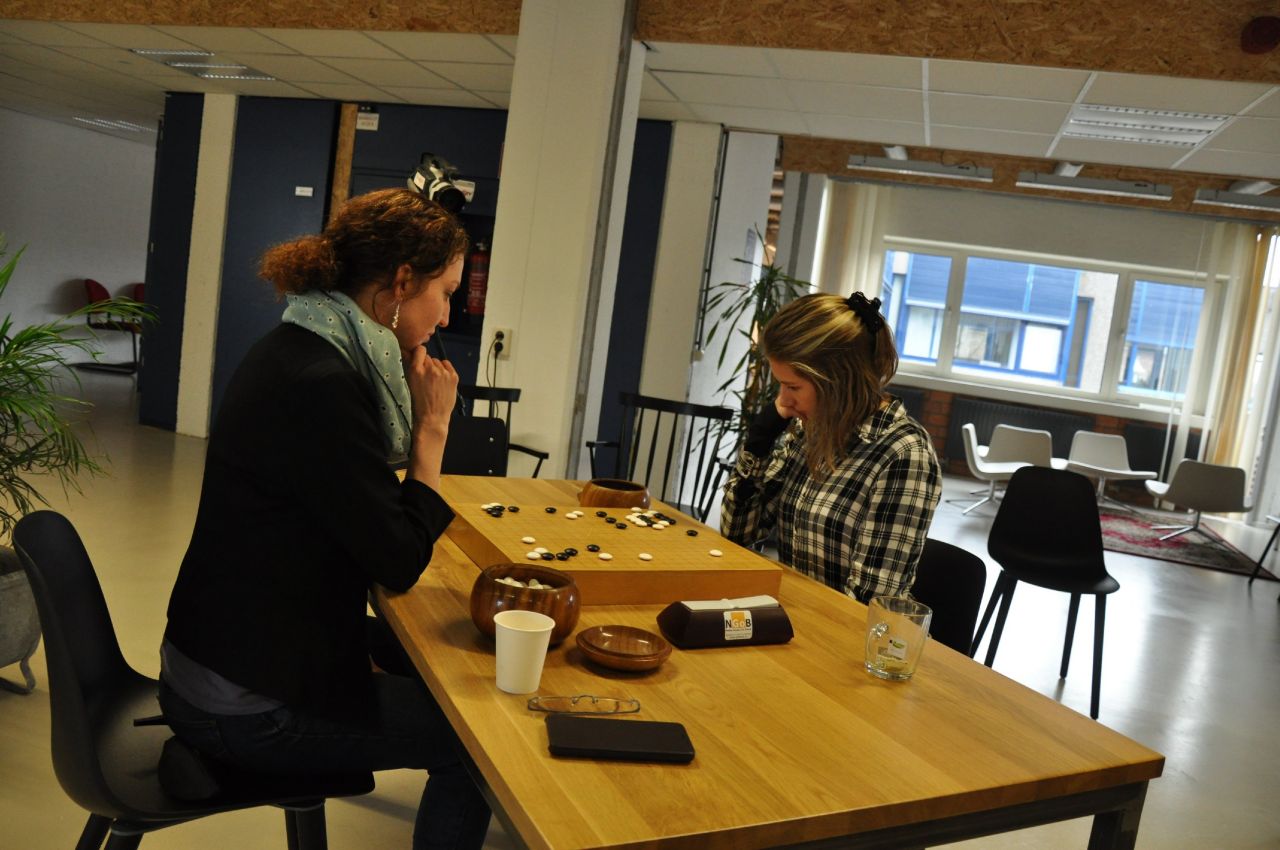 Cobh
Attempting to meet twice weekly this year. Averaged about 1.5/week in Jan.
Thanks as always to those who provide updates from around the country.
p.s. Remember to renew your annual IGA membership – http://www.irish-go.org/about/#whyjoin