Confucius Cup Edition
No doubt you are all aware that the Confucius Cup took place the first weekend of this month. For those who want to read up on the tengen of the Irish goban, here are a collection of reports from around the 'net…
Official IGA report – http://www.irish-go.org/2017-irish-confucius-cup-report
Galway writeup – https://www.facebook.com/galwaygoclub/posts/1838487263073736
EGF report – http://www.eurogofed.org/index.html?id=111
BGA – Strongest Irish Confucius Cup – http://www.britgo.org/node/5778
AGA – http://www.usgo.org/news/2017/03/kim-seong-jin-edges-out-pavol-lisy-to-win-2017-irish-confucius-cup
Results (IGA) – http://www.irish-go.org/2017-irish-confucius-cup-go-results
Results (EGD) – http://www.europeangodatabase.eu/EGD/Tournament_Card.php?&key=T170304F
Looking forward… March/April
Training League
Ian has proposed a Training Collective for the IGA – https://www.facebook.com/groups/213994972070977/permalink/933140213489779/
PGETC
Ireland is scheduled to play Georgia tonight in the 6th round – http://pandanet-igs.com/communities/euroteamchamps/rounds/365#3
Next month, Ireland will face Belarus in the 7th final round – http://pandanet-igs.com/communities/euroteamchamps/rounds/366#1
Weekly Meetings
Belfast – Monday nights at the Brewbot Pub on Ormeau Road – https://www.facebook.com/BelfastGoClub/?fref=ts
Galway – Tuesday at 20:00, usually at Westwood House Hotel. Anyone interested should email info [at] alexander [dot] ie or call Richard on 091 555800 to confirm
Dublin – Wednesdays 20:30 in Toners – http://www.irish-go.org/clubs-tournaments/dublin/
Online – Thursdays 20:00-22:00 on OGS – http://www.irish-go.org/clubs-tournaments/online/
Cobh – 20:30 most Thursdays in Whitepoint – https://www.corkgo.org/?page_id=9
Stillorgan – Sunday afternoons 14:00-18:00 at PingZone, St Benildus College – https://www.facebook.com/groups/213994972070977/permalink/917134471757020/
Cork* – Sunday nights 20:00(-ish) in various venues around the city – https://www.facebook.com/groups/191875150950
*The Cork group will be making use of Discord on a trial basis. To get an invite, contact Padraig or myself.
Looking further ahead… May
Galway 2017
The Galway Tournament will take place on May 6th-7th at the Galway Bridge Club, St Mary's Road – http://www.irish-go.org/galway-main-tournament-2017/
Pair Go
A one-day Pair Go event is being organised on Sunday May 14th in the Japanese Embassy in Nutley Centre. Interested pairs should contact the IGA committee.
Looking back… February (and March to date)
PGETC
Ireland finished 2-2 against Cyprus in the 4th round – http://pandanet-igs.com/communities/euroteamchamps/rounds/363#2
Irish Correspondence Tournament 2017
Progress can be tracked at http://senseis.xmp.net/?IrishCorrespondence
European Professional Go Championship
Ilya Shikshin won the second EPGC – http://www.eurogofed.org/index.html?id=105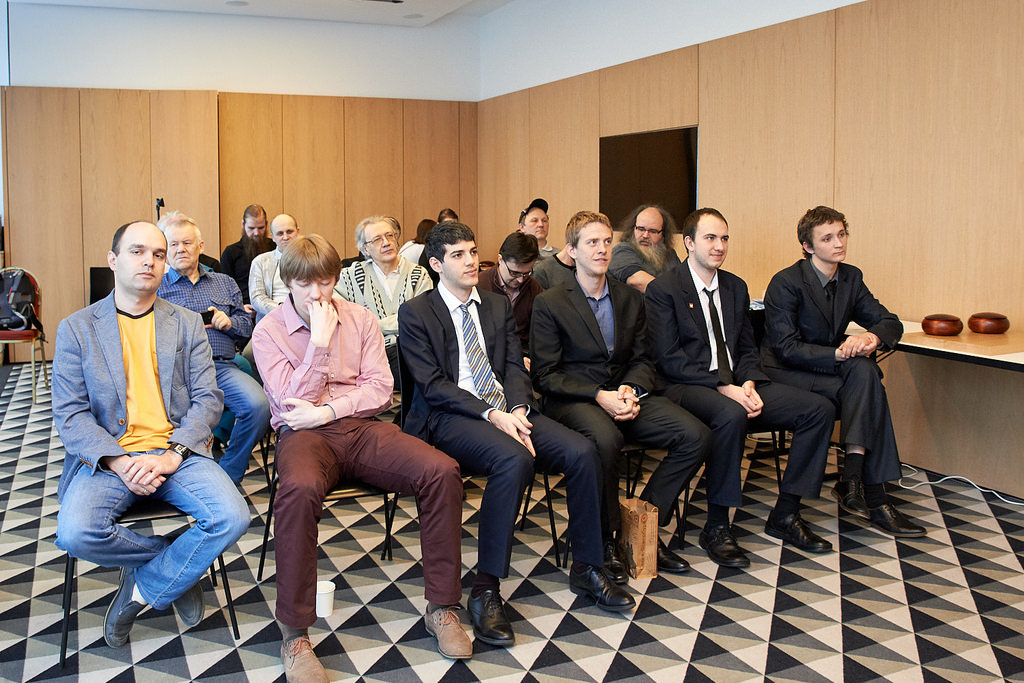 The professionals' row (from the left): Alexandre Dinerchtein, Ilya Shikshin, Ali Jabarin, Pavol Lisy, Mateusz Surma and Artem Kachanovsky
Brian Gallagher
Brian Gallagher, who represented Ireland twice at the WAGC, passed away at the end of 2016
Thanks as always to those who provide updates from around the country.
p.s. Remember to renew your annual IGA membership – http://www.irish-go.org/about/#whyjoin