Looking forward… August
Online Interprovincials
The final round is partly done
Further ahead… September
Belfast Go Tournament
There will be a one day tournament in Belfast on Saturday September 14th
Confucius Cup
This heavyweight of the 2019 Irish lineup (a level C event in the European Grand Prix) will take place over the weekend of September 28th/29th at the Confucius Institute in UCD
Weekly Meetings
Galway – Tuesday 19:30 in Mc Swiggans
Cork – Tuesday 20:30 in St Fin Barre's Cathedral Hall
Dublin – Wednesday 19:00 in Toners
Online – Thursday 20:00-22:00
Stillorgan – Sunday 14:00-18:00 at PingZone, St Benildus College


9th-and-a-half PGETC
The EGF has coverage of the 2019 finals in Brussels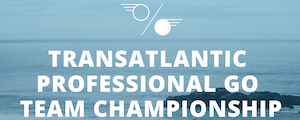 After a wedding-related substitution, the EGF team has won the first ever TPGTP
Looking back… July
World Amateur Go Championship
Noel has posted an extensive writeup of his experience at the 40th WAGC
Cork Meetups Resume
And we're back! Made it past the one-month milestone, with old players returning and a few new faces. Around 3-4 attending weekly, with a high of seven.

Irish Correspondence Tournament
Nearly there
On the continent…
European Youth Team Championship
The EGC invites European Youth to take part in the 6th European Youth Team Championship. This will run from November to February on the KGS Go Server. Registration closes September 9th.
EGC 2019 Coverage
The European Go Congress wrapped up at the weekend. Daily reports by the EGF: 1 2 3 4 5 6 7 8
EGF AGM
Minutes (and a summary) are now available
Tenuki
My Journey to Korea – Everyone begins with an empty board!
Follow the adventure of Gabriela as she undertakes a sure to be epic journey from Romania to Korea. (Although I had mentioned this on CorkGo back in March, I've neglected to include it in the bulletin since.)
UK 1k
The London Go Centre is nearly halfway to its goal of 1000 subscribers on its youtube channel to level up the account's streaming privileges