Quite a bit to get through this month, especially if you are the sort who likes to follow all the links.
Looking forward… July
EGC 2019
Starting late in the month, the European Go Congress will run from July 20th to August 4th in Brussels
Online Interprovincials
The final round is currently underway. Results from round 2 were:
Munster v Ulster: 1-2
Connaught v Leinster: 3-0
Further ahead… September
Belfast Go Tournament
There will be a one day tournament in Belfast on Saturday September 14th
Weekly Meetings
Galway – Tuesday 19:30 in Mc Swiggans
Cork – Tuesday 20:30 in St Fin Barre's Cathedral Hall
Dublin – Wednesday 19:00 in Toners
Online – Thursday 20:00-22:00
Stillorgan – Sunday 14:00-18:00 at PingZone, St Benildus College
UPDATE: Cork meetings will resume Tuesday 9th in St. Fin Barre's Cathedral Hall, Dean Street on a trial basis.


9th-and-a-half PGETC
While the main tournament has wrapped up, there is a special 2019 Qualifier which will involve face-to-face games.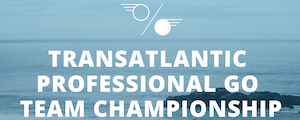 After staying on long enough to pull the AGA back up to 3 – 3, Eric Lui lost to Artem in the 7th round. While the result has not yet made it onto the TPGTP site, the game is available on OGS. (Actually, they have a facebook page too, if you are that way inclined.) The next two rounds will be on the 7th and 14th.
Looking back… June
World Amateur Go Championship
Noel placed 36th representing Ireland at the 40th WAGC
Irish Correspondence Tournament
Play continues
On the continent…
EGCC Closure
In an unfortunate turn of events, the European Go Cultural Centre will shut down later this year
Tenuki
Argentina Walks Towards Gender Equity in Go
"Argentina's Gender Commission was founded with the purpose of achieving more gender equity and inclusion. There are more males than females playing Go, despite there being no gendered differences in intellectual ability. [There are already some quite strong female players.] An increasing number of clubs are trying to address the causes behind this disparity."
UK 1k
The London Go Centre is aiming for 1000 subscribers on its youtube channel to level up the account's streaming privileges
ZBaduk
A new LeelaZero site, with options to play against the bot or review an uploaded game
OGS Joseki Dictionary
Another month, another promising feature