The customary "Looking forward…" opening feels overly optimistic this month, given the times we are living through. Our thoughts are with all those who have been affected by the war in Ukraine.
The Irish Go community has suffered a heartfelt loss. John Gibson, long time stalwart of the game, has passed away. Eoghan posted an eloquent piece on the IGA site. The Irish Chess Union has a thoughtful article by Paul Cassidy.
Just ahead… April
April Rip-Off
In place of the postponed Confucius Cup, the Rip-Off will be held on April 2nd at the Teachers' Club in Dublin.
2022 Ulster Open
This 1-day, 3 round tournament will take place in Lisburn on April 23rd.
British Congress 2022
This will be held Friday 8th – Sunday 10th on Lancaster University Campus
2022 Correspondence Championship
Currently underway in the Ireland group on OGS
The far future… September
Confucius Cup 2022
This is scheduled for the weekend of 16th-18th September
Weekly Meetings
Dublin – Wednesday 19:30 in Toners
Online – Thursday 20:00 on Discord, with games played primarily in the OGS Ireland Group
Galway – visit their club on OGS
Lisburn – Saturday 10:00 at 60-62 Longstone Street as part of Lisburn Chess club. Also Monday 18:30 – check FB or message to confirm!
Kindly note that the Dublin and Online meeting nights were moved earlier this year.


12th PGETC
Ireland drew 2-2 with Belgium in the fifth round.
The penultimate round sees Ireland face Lithuania on the 19th
Looking back… March
2022 Annual General Meeting
The IGA's AGM took place on Thursday March 24th. Minutes will probably appear on Discord or the IGA site
On the continent…

EGF Statement
The EGF has published a statement about the war in Ukraine after its recent emergency meeting

European Go Journal
Artem has a few updates on the EGJ blog as well as several posts on facebook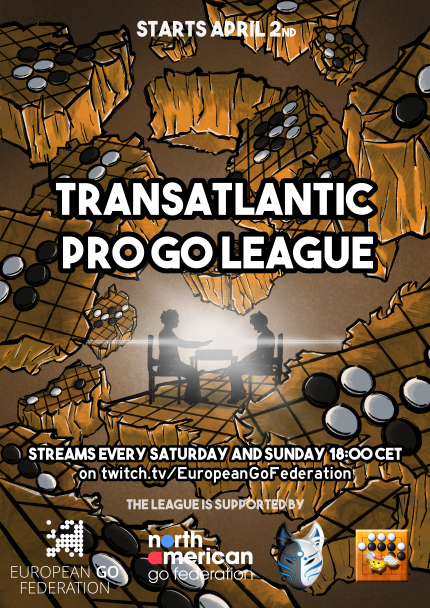 2nd Transatlantic Professional Go League
Starting April 2nd on OGS
EYGC Reports
Two articles by Tony Claasen
TheBigGreekSchach
TheBigGreek, the biggest german Chess-Streamer, made a stream where he learns Go from Tobias Berben – from L19
Issyk-Kul Cup 2022
The first international Go event in Kyrgyzstan will be held this June

European Go Congress 2022
web site for this year's EGC
Congress newsletter – Feb, March
Tenuki

Play Go for Ukraine
GoTeachers are organising 3:1 simultaneous games in aid of Ukraine
OGS Stats
A new OGS stats page
Korean Prime Minister's Cup
The KBA have announced this year's KPMG will take place on 24th–30th September
AGeJ Miscellany
A selection of random articles to round out an already overly long issue…
Saudi Arabia Includes Go in Government Project
15-year-old Wins First Title 9 Months after Becoming Pro
Chinese Go player gets one-year ban for using AI during national competition
IGA Resources
The email version of this bulletin will be moving over to the IGA's mailing list in the near future. People who want to keep receiving it should sign up over on the IGA website. I will include a final reminder in next month's edition, which will probably go out on both feeds as we change over.
Join the IGA Discord server – https://discord.com/invite/4vSnhjd – or follow along on Twitch, YouTube, or Instagram