Looking forward… May
IGA League
Registration closes soon for the first season of this new three-month-long, (mostly) online league
Outreach
Do you know a group or community that might be interested in learning Go? The IGA is here to help!
2022 Correspondence Championship
Currently underway in the Ireland group on OGS
The far future… September
Confucius Cup 2022
This is scheduled for the weekend of 16th-18th September
Weekly Meetings
Dublin – Wednesday 19:30 in Toners
Online – Thursday 20:00 on Discord, with games played primarily in the OGS Ireland Group
Galway – visit their club on OGS
Lisburn – Saturday 10:00 at 60-62 Longstone Street as part of Lisburn Chess club. Also Monday 18:30 – check FB or message to confirm!


12th PGETC
Ireland managed a single win against Lithuania in the penultimate round.
The last round sees Ireland facing Slovenia on the 10th
Looking back… April
April Rip-Off
Eoghan posted a writeup of the tournament
2022 Ulster Open
Pictures
Results

Interclub Battle
Ireland take on the French club Stones in the Shell – commentary on twitch
On the continent…
Statement from the Ukraine Go Federation
A letter from the UFGO President

EGF Statement
The EGF's statement about the war in Ukraine
Related discussion on L19

Lithuanian Go Association Summer Camp
The LGA's 2022 summer camp takes place July 7th-10th
49th Paris International Tournament
A writeup has been posted by Milena on the EGF website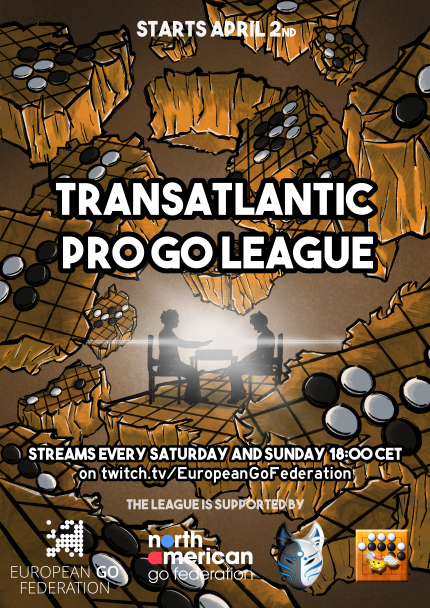 2nd Transatlantic Professional Go League
Current standings can be seen at the foot of this page

European Go Congress 2022
The organisers have requested that those who plan to attend book so they can get a better idea of how many people they need to cater for
Tenuki


SmarterGo
SmartGo One is out for iPhone and iPad
IGA Resources
The email version of this bulletin is moving over to the IGA's mailing list. People who want to keep receiving it should sign up over on the IGA website.
Join the IGA Discord server – https://discord.com/invite/4vSnhjd – or follow along on Twitch, YouTube, or Instagram