Looking forward… June
IGA League
Keep tabs on the first season of this new league here
2022 Correspondence Championship
Currently underway in the Ireland group on OGS
Further Ahead… July
Hungarian Go Camp 2022
People interested in attending the 11th Hungarian Go Camp in Százhalombatta from July 10th-17th should check out the provided pdf or register online

Lithuanian Go Association Summer Camp
The LGA's 2022 summer camp takes place July 7th-10th
The far future… September
Confucius Cup 2022
Kindly note that this has been rescheduled for the weekend of 23rd-25th September
Weekly Meetings
Dublin – Wednesday 19:30 in Toners
Online – Thursday 20:00 on Discord, with games played primarily in the OGS Ireland Group
Galway – visit their club on OGS
Lisburn – Saturday 10:00 at 60-62 Longstone Street as part of Lisburn Chess club. Also Monday 18:30 – check FB or message to confirm!


12th PGETC
Ireland finished fifth in League C after defeating Slovenia in the final round.
Tangentially, despite winning 4-0 in the last round, the UK have been relegated and will be joining League C next season.
Looking back… May
Outreach
Do you know a group or community that might be interested in learning Go? The IGA is here to help!
On the continent…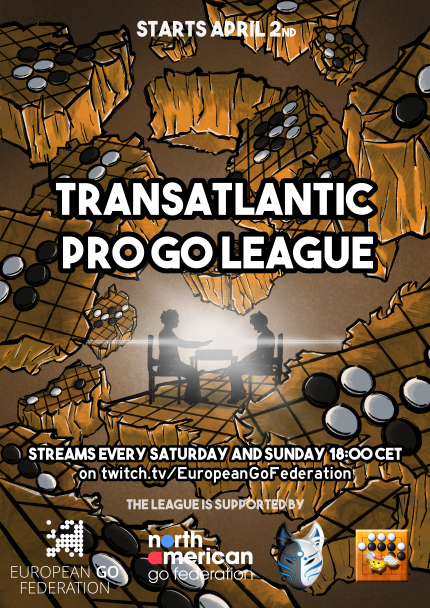 2nd Transatlantic Professional Go League
Current standings can be seen at the foot of this page

European Go Congress 2022
The organisers have confirmed their intent to organise EGC 2022 in Vatra Dornei
Tenuki
Digital Go Education and Go Globalization
The Korean Baduk Association and the University of Seoul have agreed to cooperate with the aim of creating a metaverse and an AI-based platform for Go education – AGeJ
A Contemporary Art Experiment, From Go Seigen to AlphaGo
Selected as the winning exhibition for the 2021 OCAT Research-Based Curatorial Project – AGeJ

Music in the stones
Wave Collector releases new go-inspired album – AGeJ