Looking forward… February
Irish Go Congress
The Rapid and the Irish Open will take place in Dublin over the weekend of February 28th – March 1st
2020 Top 8 (Irish Championship)
James is tentatively scheduled to play Alex on the 15th at 14:00 on KGS to decide who will face Matei in the final
Correspondence Championship
21 players across 4 divisions. Keep tabs through the OGS Ireland group
Further ahead… March
2020 AGM
This year's AGM will be held on March 1st, after the prize-giving ceremony at the Irish Open. IGA members are invited to submit motions to Carol – secretary@irish-go.org
Weekly Meetings
Galway – Tuesday 19:30 in Mc Swiggans
Cork – every other Tuesday* 20:30 in St Fin Barre's Cathedral Hall
Dublin – Wednesday 19:00 in Toners
Online – Thursday 20:00-22:00
Stillorgan – Sunday 14:00-18:00 at PingZone, St Benildus College
Cork – every other Sunday* 20:30 at Mr Bradleys, Barrack St
* The rebel county alternates between two venues and nights. Best to check in advance if planning to attend.


10th PGETC
Ireland retains lead position in league C after a 3-1 victory over Slovenia in round 4. They will face South Africa on the 25th.
Looking back… January
2020 Top 8 (Irish Championship)
Defending champion Matei was undefeated last weekend, securing his place in this year's final. A summary of results so far can be found on the IGA site.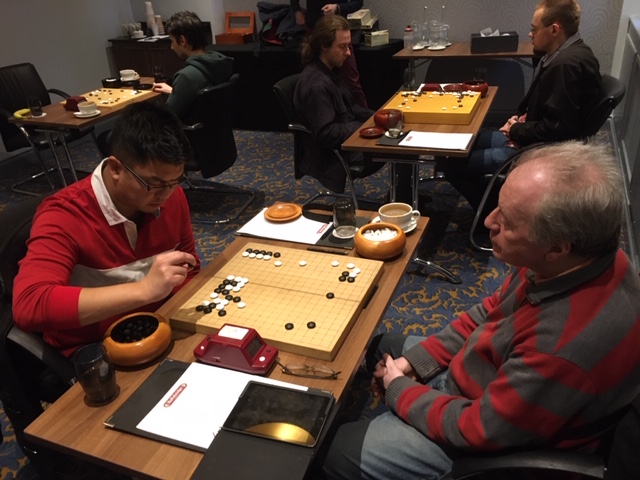 Philippe has shared a behind the scenes look at the event.
On the continent…
Go Retreat at Ask Island
The IGA has received an invitation from Antti Törmänen 1p to a unique Go retreat in Bergen, Norway, this August – brochure
3rd European Grand Prix Finale 2019
An article by Antonius Claasen about the Grand Prix Final
Book Review
Antonius Claasen has posted an overview of EGF 2p Mateusz Surma's You won't get dumber while thinking series as well as Shapes of Minds, which are available from polgote
European Youth Go Yearbook
The 140-page pdf version of the SEYGO 2019 yearbook is available for purchase. A limited paper edition will be on sale at several events during the year.
Västerås Open 2020
A two-day tournament in Sweden on 8th-9th Feb.
Tenuki
Shanghai Ing Foundation International Collegiate Tournament
This year's tournament will be held in Shenzhen, China, from July 7 – 13 and is open to any current undergraduate or graduate level college student. Interested parties should contact Eoghan – president@irish-go.org
Ing Cup Postponed
Due to start in April, the Ing Cup has been postponed due to the coronavirus epidemic. The Ing Chang Ki Goe Educational Foundation said "the exact time will be announced after the epidemic is under control".